At 82, she keeps west side food pantry cooking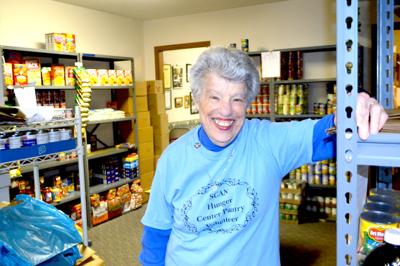 When a grant funding the Southwest Community Access Network ran out nearly 16 years ago and the group was about to disband, a co-chairperson of the group took the lead to create a new food bank on Cleveland's west side.
Director Lona Gruber, 82, did various volunteering activities through SCAN, which was part of the Southwest General Hospital in Middleburg Heights. One of those activities was hosting a food pantry, where Gruber saw firsthand the need.
Though the money ran out, Gruber was able to open SCAN Hunger Center Pantry in Berea with the help from other SCAN members and Berea City Council. The pantry served about 30 families the first day and since has partnered with the Cleveland Food Bank and the Hunger Network of Cleveland.
The idea to open a food pantry came easily to Gruber, who worked as a social worker for 40 years.
"If they're hungry, you've got to feed them. If they're naked, you've got to clothe them. That's in the Torah, that's in the Bible, it's the way I was brought up," said Gruber, a member of Beth Israel-The West Temple in Cleveland. "Your faith is not something you do, it's what you do every day with it, and my faith tells me I am my brother's keeper, that I am responsible for somebody else."
Today, the pantry, which doesn't serve kosher meals, is open on the second and fourth Friday of the month. It serves those who live in Berea, Brook Park, Columbia Township, Middleburg Heights, Olmsted Falls, Olmsted Township and Strongsville, as those were the communities SCAN served while it was with the hospital.
Gruber said there are some rules she strictly follows while running the pantry, like not accepting expired food or dented cans, only serving a family once a month and only serving families that live in one of the communities eligible. While she said it's difficult to always follow such rules, she recalled a time when she had to turn someone away because they lived in Shaker Heights.
"I cannot feed them," she said. "I have to feed these people in these communities."
Each bag given by the pantry is designed to provide meals for three days. The meals within the bag were designed by a nutritionist who volunteered for the pantry to fulfill nutritional needs.
"We are not giving bags of food that are not worthy, because to me, if you're going to feed them, feed them right or don't feed them at all," she said.
On the Friday before Thanksgiving, Gruber said the pantry fed 101 families and everyone got chicken to cook for the holiday due to a deal she made with the Heinen's grocery store in Middleburg Heights.
Saving money and cutting deals is vital to any business and though the food pantry is a nonprofit, Gruber applies the same logic. While the pantry receives money and food from the Cleveland Food Bank, it costs additional money to have the goods delivered to Gruber's pantry. Instead, one of the pantry's board members picks up the goods.
"I want every dang dong dollar we have spent getting food," she said.